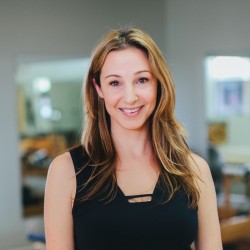 Cori has called Camarillo Pilates home for the last 5 years. She and her husband Jimmy happily took ownership of the studio in March of 2014. Pilates has been a therapeutic, strengthening and energizing presence in her life and has kept her free of the chronic back pain that resulted from a fracture to her spine during a snowboarding accident in 2002. It is Cori's goal to provide each and every client with the sense of renewed energy, grace and total wellness that she has discovered in Pilates.Cori is a BASI certified Pilates Instructor with a specialization in Women's health. She has additional certification and licensing in prenatal pilates, postnatal pilates, and bone health with plans to continue her studies in the areas menopause, pelvic floor dysfunction, MS and post-operative breast cancer rehabilitation. She enjoys working with private clients and teaching various group classes including Reformer, Mat, Prenatal Mat and Pilates for Buff Bones®.
B.A. Sociology, California State University Long Beach 2005; Body Arts & Science International CTTC 2010; Prenatal and Postnatal Pilates Specialist 2011; Pilates for Buff Bones Licensing 2014.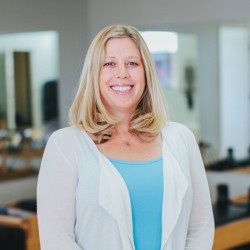 Harmony Maldonado / 
Instructor
Harmony started Pilates in June 2009 to get her body back in shape after having a baby. Pilates was a new exercise experience for her and she ended up loving it so much that she decided to take the BASI comprehensive instructor course. Transitioning into teaching Pilates is not a far stretch for Harmony. She is a certified athletic trainer (sports medicine) with a Bachelor's degree in Sport Sciences and a Master's degree in Physical Education/Outdoor Education.She has enjoyed working with a wide variety of populations, including athletes, elderly and those who exercise just to feel good. She enjoys blending Pilates with her other interests of running, walking, swimming and many other outdoor pursuits.
Recently, Pilates has helped enhance her training for full- and half-marathons. "I look forward to seeing how Pilates enhances other aspects of my life."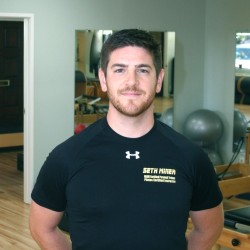 Seth studied at Power Pilates in New York city, under the guidance of second generation masters Bob Liekens and Susan Moran. In addition to Pilates, Seth is also a personal trainer certified through the National Academy of Sports Medicine. While growing up in Idaho, Seth was very active riding horses and playing soccer, but it was studying dance at North Carolina School of the Arts that sparked his interest in fitness as a profession. After graduating with a BFA in Dance, he moved to New York to dance professionally, and found that, like most dancers, he needed a second career to support his dancing. Using his in-depth knowledge of the body and movement, Seth quickly became a sought-after fitness instructor for people looking to feel better through movement. His teaching merges west coast compassion with New York intensity and incorporates his experience in dance, yoga and traditional fitness modalities. He is very excited to find a home at Camarillo Pilates!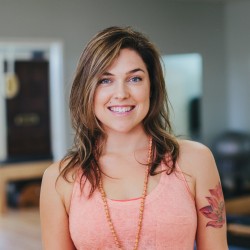 Carly Henderson / 
Instructor
Carly's diverse background gives her a unique edge as a Yoga, Pilates, & Barre instructor, with education and experience in numerous specialties related to health, fitness, sport, and medicine.
Raised in the world of competitive sports, representing numerous U.S. state champion teams, and with training and experience in the Olympic Development program, Carly understands the drive and mentality, as well as physiology of serious athletes.
Witnessing first-hand the full spectrum of potential power and frailty of the human body and spirit, Carly developed a strong interest in preventative and rehabilitative medicine, and has thus far completed coursework internationally in the areas of kinesiology, sports medicine, bio-mechanics, biology, anatomy and physiology, neuromuscular physiology, yoga philosophy, group yoga training, exercise programming, special populations, yoga equipment use, client screening, nutrition, first-aid, advanced techniques training and practice, advanced teaching methodology, basic Ayurveda, and is a fully qualified gym and personal training yoga instructor and barre instructor.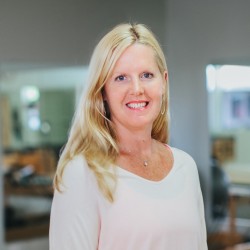 Genie Taylor / 
Instructor
I strongly believe that by keeping a healthy and energetic body we are able to meet our complex lifestyles. I create dynamic programs addressing the pilates principles of the classical repertoire to reach the needs and goals of every individual. I aim to help client's reach their full potential in pilates   I study regularly, keeping my teaching skills fresh and lessons interesting. As a practitioner of pilates, I have kept my body strong and flexible, protecting myself from injury during high levels of intensive training. I believe that pilates is the ultimate form of exercise to help strengthen, lengthen, and tone the body and is an invaluable tool to assist during rehabilitation. The energetic and grounding benefits that pilates produces is indeed amazing.
I grew up in Hawaii and California with a strong competitive swimming background. I love to dance, paddleboard, cycle, snow ski and travel. I love being in nature and bringing wellness to my clients. Rebalance, Restyle and Rejuvenate is what life is all about!
PMA (Pilates Method Alliance) Certified, Balanced Body University: Comprehensive Pilates Instructor, Polestar Pilates: Continuing Pilates Education, BS degree in Lifestyle Management, emphasis: Nutrition and Fitness, Water fitness, swim and yoga certified, and CPR & First Aid Certified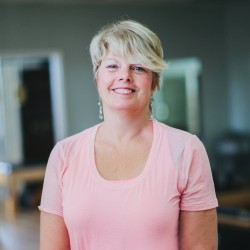 Michele Goyette / 
Instructor
 Michele has been in the fitness industry as a AFAA certified group fitness instructor for over 30 years. She has a Ph D from Brown University with a focus on cell biology. She has been certified in a number of fitness formats such as SPIN, ZUMBA, Step, and BarreVite.  However her passion remains Pilates and most recently Yoga. She is a BASI certified Instructor (2009), and continues to take continuing education: classes for Stott's mat Pilates certification (2011) which had a focus on the use of props to assist or challenge certain exercises, Pre and Post natal Pilates (2012), and Pilates for Buff Bones (2014).  She also has completed the Yogaworks 200 hr teacher training program (2013). Michele feels nothing is more rewarding than assisting clients in achieving better health and movement.
When not doing Pilates, she can be found either doing agility with her semi-obedient Australian shepherds or riding or driving her horses.